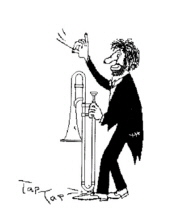 Jiggs Whigham is an internationally acclaimed trombonist, band leader  and educator. This versatile performer, born Oliver Haydn Whigham III (the  nickname Jiggs was given by his grandfather) in Cleveland Ohio on 20 August 1943, first came to the attention of critics and fans at 17, as featured soloist and first trombonist with the Glenn Miller Orchestra, directed by Ray McKinley. Two years later, he was first and solo trombonist with Stan  Kenton. Following a year of studio and Broadway Musical engagements in New  York, he became featured soloist with the Kurt Edelhagen Jazz Orchestra at the West German Broadcasting Company in Cologne, Germany in 1965. In 1966 his was awarded 1st Prize at the first competition for Modern Jazz  in Vienna.He uses Bonn, London and Cape Cod as home bases, In 1979 he was named Professor  and Head of the Jazz Department at Cologne University College of Music, the first appointment of its kind in Germany. In 1995 he was named "Professor for Life" and head of the Jazz-Popular Music Department at the "Hanns Eisler" College of Music in Berlin. From 2000-2001 he was visiting professor at Indiana University. He was bandleader of the Swiss Radio Band (Radio DRS) from 1984-1986. From 1995-2000 he was chief conductor and artistic director  of the Berlin Radio Orchestra (RIAS Big Band Berlin).
He is currently soloist and clinician worldwide, conductor of the BBC Big Band in Great Britain, artistic director of the Berlin Jazz Orchestra and visiting tutor at the Royal Northern College of Music in Manchester, England. He is musical director of the LaJJOB (Brandenburger Youth Jazz Orchestra) and artistic director of the BUJAZZO (german jazz orchestra).
Jiggs Whigham is President Emeritus of the International Trombone Association (ITA).
He is also a lifetime member of the ITA, the British Trombone Society (BTS) and the German Trombone Society (IPV).
Jiggs Whigham is active as a soloist, conductor, composer, author and educator. He is a clinician and 'artist in residence' for the Conn-Selmer Company .
Jiggs is author of the book "Jazz Trombone" (Edition Schott – ED 12710) and 'Steps' (a guide to jazz for wind ensemble (Edition Schott – ED 20910)).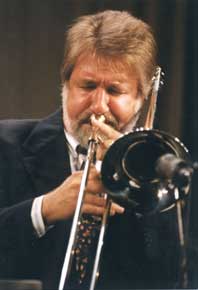 For more information or to book Jiggs Whigham for concerts, festivals  or master classes, please email him at jiggs@jiggswhigham.com
Jiggs has played and/or recorded with…Jamey Abersold, Pepper Adams, Cannonball Adderly, Manny Albam, Laurindo Almeida, Vic Ash, Giacomo Aula, Patti Austin, Benny Bailey, Gary Barone, Mike Barone, Rony Barrak, Count Basie, Madeline Bell, Louis Bellson, Tony Bennett, Bill Berry, Gene Bertocini, Paul Bley, Francy Boland, Michael Brecker, Randy Brecker,  Dee Dee Bridgewater, Nick Brignola, Till Broenner, Bob Brookmeyer, Billy Brooks, Ray Brown, Uschi Brüning, John Bunch, Michael Bublé, Bobby Burgess, Carol Burnett, Don Byas, Charlie Byrd, George Cables, Conte Candoli, Pete Candoli, Betty Carter, Ron Carter, Bruno Castellucci,Philip Catherine, Ray Charles, Buddy Childers, Pete Christlieb, Kenny Clarke, Terry Clarke, Jay Clayton, John Clayton, Billy Cobham, Tony Coe, Al Cohn, Bob Cooper, Keith Copeland, Larry Coryell, Jamie Cullum, Ted Curson, Dee Daniels, Eddie Daniels, John Dankworth, Buddy De Franco, Nathan Davis, Alan Dawson, Barbara Dennerlein, Jimmy Deuchar, Bill Dobbins, Jerry Dodgion, Klaus Doldinger, Paquito D'Rivera, Kenny Drew, George Duvivier, Kurt Edelhagen, Harry "Sweets" Edison, Larry Elgart, Kurt Elling, Peter Erskine, Robin Eubanks, Bill Evans, Gil Evans, Jon Faddis, Georgie Fame, Allen Farnham, Art Farmer, Joe Farrell, Paul Ferguson, Maynard Ferguson, Chuck Findley, Ella Fitzgerald, Bob Florence, Carl Fontana, Barry Forgie, Bud Freeman, Curtis Fuller, Hal Galper, Judy Garland, Herb Geller, Stan Getz, Terry Gibbs, Astrud Gilberto, Dizzy Gillespie, Benny Golson, Benny Goodman, Eddie Gomez, Paul Gonzalves, Dexter Gordon, Wycliffe Gordon, Dusko Goykovich, Al Gray, Benny Green, Urbie Green, Wycliff Gordon, Johnny Griffin, George Gruntz, Friedrich Gulda, John Guerin, Jeff Hamilton, Scott Hamilton, Jan Hammer, Lionel Hampton, Slide Hampton, Jake Hanna, Tom Harrell, Billie Hart, Peter Herbolzheimer, Horacio 'el negro' Hernandez, Joe Henderson, Conrad Herwig, Giovanni Hildalgo, Billy Higgins, Milt Hinton, Bill Holman, Red Holloway, Bob Hope, Dave Horler, HR Brass, Freddy Hubbard, Chuck Israels, Christian Jacob, Howard Johnson, Carmell Jones, Hank Jones, Harold Jones, Quincy Jones, Thad Jones, Sheila Jordan, Bert Kaempfert, Mauricio Kagel, Stefan Karlsson, Greetje Kaufeld, Roger Kellaway, Stan Kenton, Barney Kessel, Chaka Khan, Rick Kiefer, Jimmy Knepper, Wolfgang Koehler, Lee Konitz,  Kristine Kresge, Manfred Krug, Paul Kuhn, Rolf Kuhn, Joe Labarbera, Steve Lacy, Yusef Lateef, Jay Leonhart, Jerry Lewis, Mel Lewis, Vic Lewis, Victor Lewis, Mundell Lowe, Don Lusher, Bob Malach, Johnny Mandel, Albert Mangelsdorff, Christian McBride, Rob McConnell, Ian McDougall, Al McKibbon, Ray McKinley, Jin McNeely, Bob Magnusson, Steve Marcus, Charlie Mariano, Bill Mays, Don Menza, Palle Mikkelborg, Bob Mintzer, Jane Monheit, Michael Moore, Lanny Morgan, James Morrison, Buddy Morrow, George Mraz, Werner, Müller, Gerry Mulligan, Mark Murphy, Dick Nash, The New York Voices, Lenny Niehaus, Judy Niemack, Mark Nightengale, Sal Nistico, Ken Norris, Walter Norris, Adam Nussbaum, Anita O'Day, Tony Oxley, Marty Paich, Horace Parlan, Joe Pass, Jaco Pastorius, Niels-Henning Orsted Pederson, Bill Perkins, Ake Persson, Polizei Orchestra-Hamburg, Herb Pommeroy, Jean Luc Ponty, Al Porcino, Tom Porrello, Chris Potter, Ferdinand Povel, Seldon Powell, Gerard Presencer, Jeanfrancois Prins, Rob Pronk, Arthur Prysock, Don Rader, Johnny Richards, Jerome Richardson, Max Roach, George Roberts, Claudio Roditi, Shorty Rogers, Frank Rosolino, Ellen Rowe, Pete Rugolo, George Russell, Bill Russo, Eddie Safranski, Art Sayers, Maria Schneider, Lalo Schifrin, Manfred Schoof, Ronnie Scott, Tony Scott, Marc Secara, Doc Severinsen, Bud Shank, Helen Shapiro, Ed Shaugnessy, Woody Shaw, Jack Sheldon, Bobby Shew, Gary Smulyan, Lew Soloff, Ed Soph, Terell Stafford, Marvin Stamm, Louis Stewart, Markus Stockhausen, Donna Summer, Harvie Swartz, Grady Tate, Art Taylor, John Taylor, Clark Terry, Toots Thielmans, Ed Thigpen, Peter Thomas, Jean Turner, Warren Vache, Bart van Lier, Erik van Lier, Ack van Rooyen, Jerry van Rooyen, Jasper van't Hof, Catherina Valente, Sarah Vaughn, Mads Vinding, Miroslav Vitous, Allen Vizzutti, Silvia Vrethammer, Mal Waldron, Cedar Walton, Jean Warlon,Tom Warrington, Derek Watkins, Bill Watrous, Ernie Watts, Peter Weniger, Kenny Werner, Denis Wick,  Joe Williams, Gerald Wilson, Nancy Wilson, Phil Wilson, Kenny Wheeler, Kai Winding, Mike Wofford, Jimmy Woode, Phil Woods, Leo Wright, Snooky Young, Joe Zawinul.
Jiggs Whigham plays
King Trombones exclusively
(produced by Conn-Selmer)